Administrators - Moderators
Creating shared spaces
Shared spaces (or sharing categories) will allow you to partition access to data and passwords by department, unit, teams etc. in your enterprise or organisation.
Categories known as parents can be created by the organisation's administrators and moderators.
From the interface
In order to create a new category, go directly to the LockPass module. Then click on the "
" button and then on the "Category".
Then, name your category and choose its replacement in your hierarchy: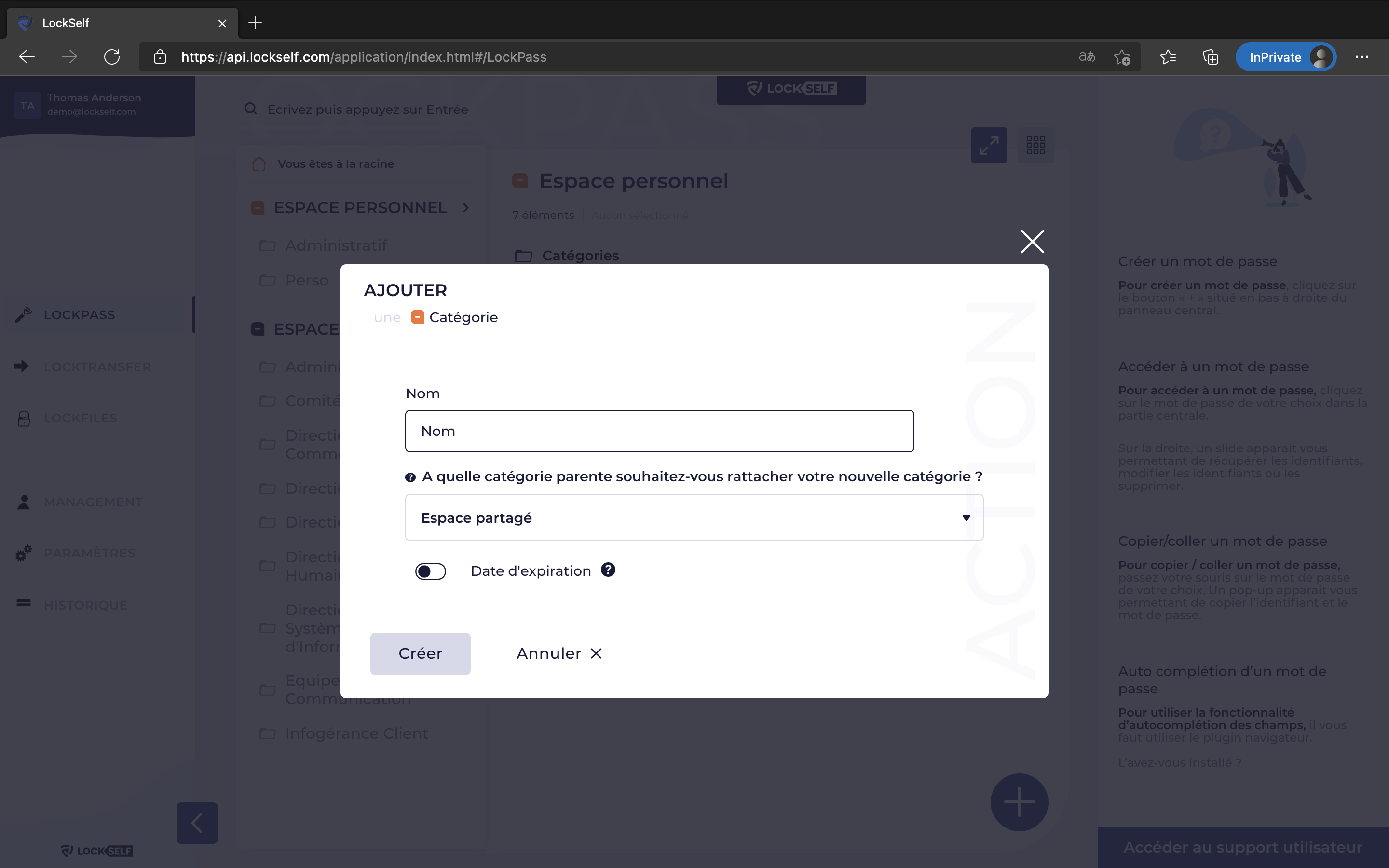 You have just created a new category.
You can create as many sharing categories as necessary, as well as as many subcategories as needed for best arranging your passwords.
From the category import module
You can import your categories to LockPass from a CSV file. This option will be useful for you if you are migrating your password database from third party softwareto LockPass. In order to see how your CSV file should be formed, click here to download a template for constructing your hierarchy.
For your information, the lines have been completed with sample data. Replace this dummy data with your desired hierarchy.
Step 1: create your file well in Excel
All fields must appear in the first line of your file:
Category/SubCategory;PasswordPolicyID;ExpirationDate
The "Category/SubCategory" field is mandatory:
Category/SubCategory: name of your category/subcategory
The "PasswordPolicyID;ExpirationDate" fields are optional (specify "0" if left empty) :
PasswordPolicyID: password policy to be applied (must be set beforehand in LockSelf)
ExpirationDate: category/subcategory expiry date
This is what your CSV file should look like in Excel:

Take care to properly record your file in the format CSV (separator: semi-colon) (.csv)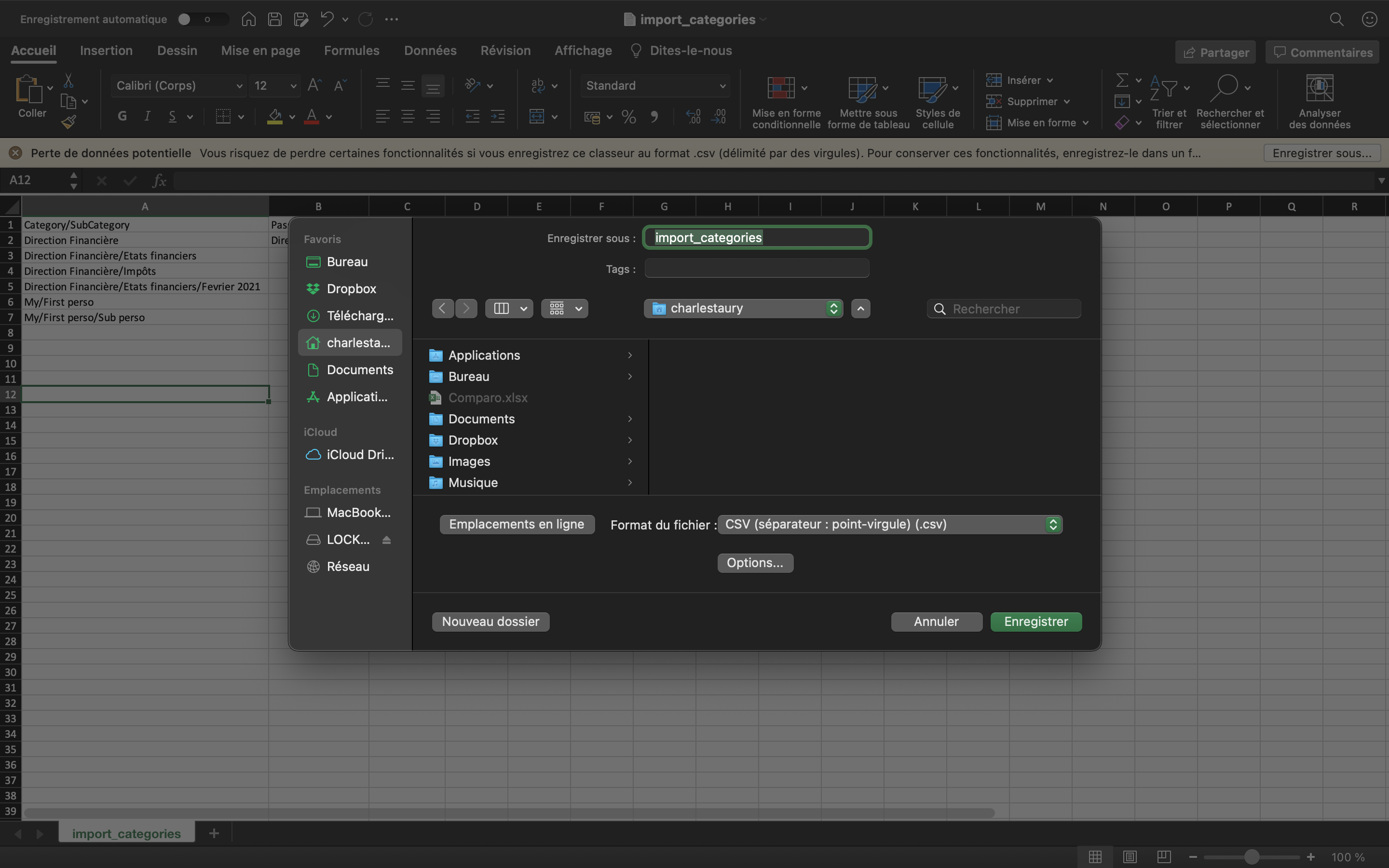 Step: importing your file to LockSelf
To import your file, open LockSelf and enter Parameters > Import categories.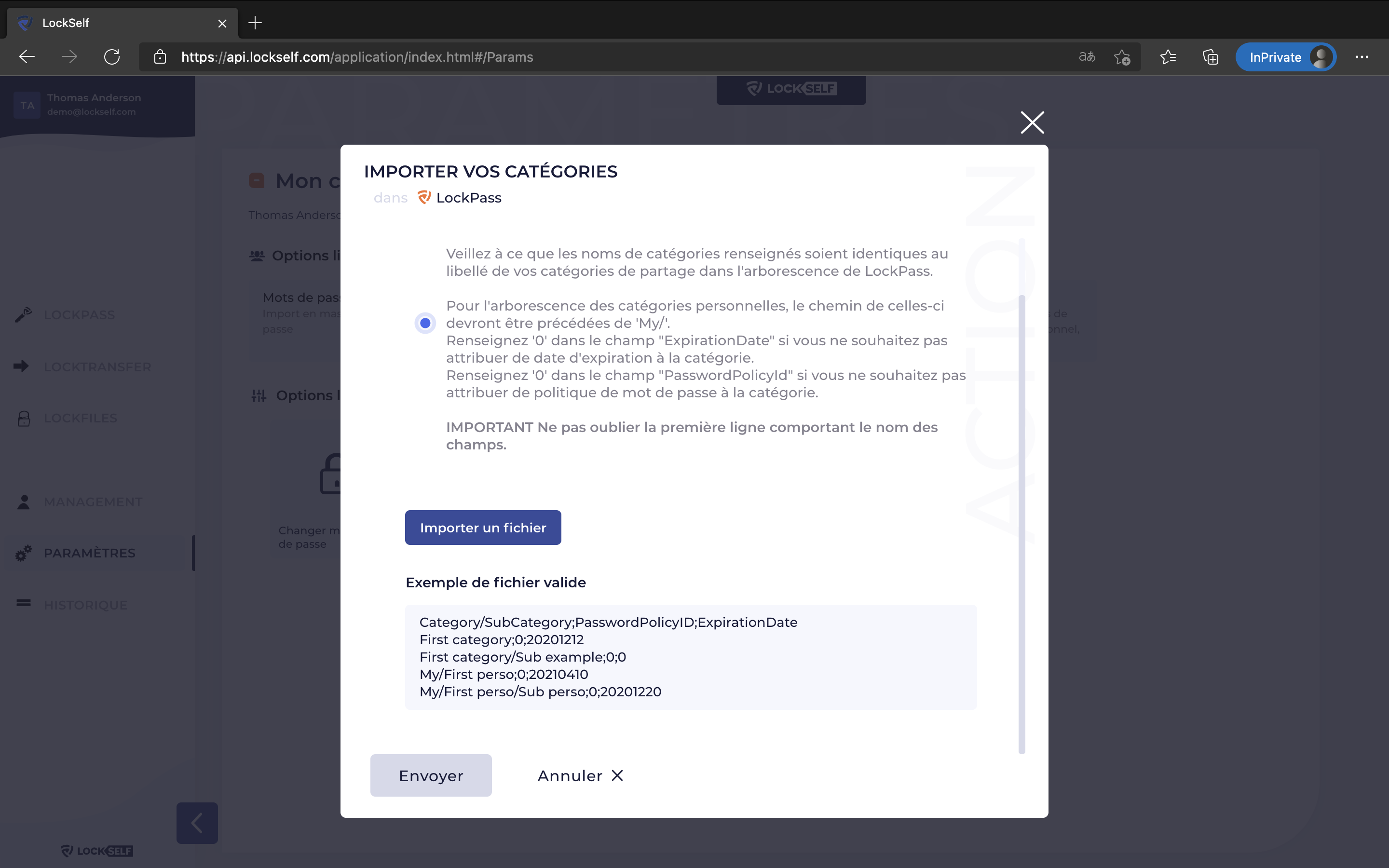 Select followed by Import a file then your file.
Access management
Adding users
Sélectionnez une catégorie de partage, puis ouvrez le panneau d'édition sur la droite de votre écran et cliquez sur « Gérez les accès ».
Une fenêtre apparaît : vous pourrez ajouter les utilisateurs ou groupes d'utilisateurs qui pourront consulter les documents du répertoires.
Supprimer des utilisateurs
Select a sharing category then open the edit window on the right of your screen and click on "Manage access*".
A window appears: select the user to be deleted then click on "Remove".
Appointing category managers
Category managers can be appointed in the sharing category. Thanks to this status, they will have all rights available in their sharing category. To do so:
Select a sharing category, then open the editing panel on the reight of your screen and click on "Manage Access".
A window appears: select a simple user and click on" Raise as category manager »
The following rights are granted to category managers:
Adding or deleting a user or group of users
Editing/deleting a password
Activating password monitoring
Adding/deleting an expiry date
Category policy: hiding passwords or permission given to all users to be able to amend a password
This status can be given to a user in several sharing categories.
Deleting category managers
Select a sharing category, then open the editing panel on the right of your screen and click on "Manage Access".

A window appears: select the user to delete, then click on "Remove the category manager status".